Collective Worship
Thursday 21st May
Today, forty days after the resurrection, we celebrate the feast of the Ascension of Our Lord. This day, a holy day of obligation, celebrates the day that Jesus ascended to Heaven, witnessed by his apostles. This event told in the Acts of the Apostles (Acts 1. vs 6-11) tells us that Jesus' body went up into heaven, and that in heaven he sits at the right hand side of God the Father.
Month of May
May is the month of Our Lady - a time when our prayers and thoughts are focussed on Our Lady and how she said yes to God and gave birth to Jesus.
Our Lady is special to our school as she is the patron of our school.
During the month of Our Blessed Lady it would be good if families could pray the Rosary together for the intentions of our School Family in these difficult times. I have put a guide on how to pray the Rosary in the resources below.
It would also be wonderful if all our children could draw, paint or create a collage showing an image of Our Lady which could be displayed in school when we return.
Don't forget to put names on pictures so that we can recognise the efforts you have made.
The Church is still celebrating the Easter season and will do so until Pentecost Sunday on 31st May- in the meantime we are looking forward to celebrating the feast of the Ascension when Jesus ascended into Heaven.
Stations of the Cross - Created by our Childcare Club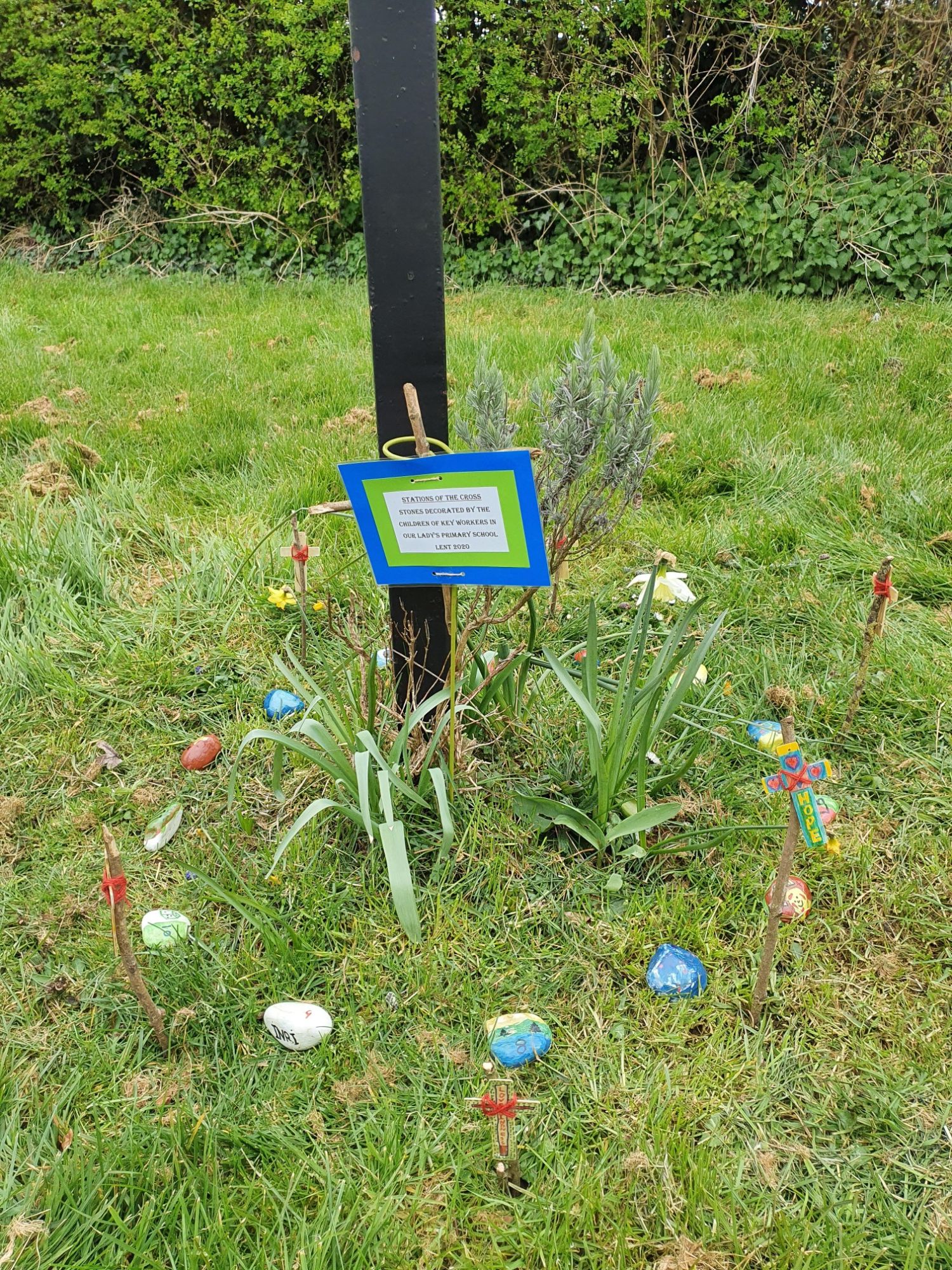 Please see below a copy of our school prayers for you to use with your children at home.
As Catholic Mass Services have been stopped due to the Coronavirus outbreak, you can now attend daily Mass online:
https://mass-online.org/daily-holy-mass-live-online/
Below is a link to Mass held at the Cathedral on Sunday at 11:00 am usually with Bishop David